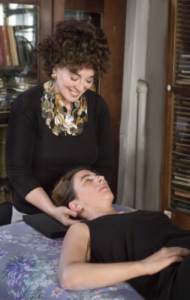 Beret Arcaya has maintained ongoing, concomitant careers in classical singing and acting (performing and teaching) and the Alexander Technique (teaching) since 1981. Students come to her for Alexander Technique lessons from all over the New York area for a variety of reasons. Often it is because of pain: a sore back or an injury that has not responded well to other treatments. Neck pain, jaw tension, stress, breathing and postural problems are among the many conditions Alexander Technique lessons can help improve. Others desire enhanced performance skills. (Athletes, actors, dancers, musicians, and singers form a large portion of students of the Alexander Technique.)
Others still are interested in personal transformation. No matter what a person's reason for studying, Alexander Technique lessons help students to re-train their often-unconscious habits, as a matter of awareness and choice to achieve poise, freedom and grace. Dedicated to the highest standards of practice, Beret is one of few Alexander Technique teachers to undertake two trainings, and is considered to be one of the most established, authentic, and dedicated Alexander teachers alive today.
Beret began her career as an actor in her early teens and did her musical training at the Juilliard School and the Manhattan School of Music. She studied Dalcroze technique for twenty years with Dr. Robert Abramson and acting for four years with Uta Hagen in New York City.
She has performed in everything from Equity summer stock to soap opera (NBC, CBS and ABC) and film (MGM) to chamber music and opera and made her NY debut at Avery Fischer Hall and has sung in the U.S., Germany, Switzerland, Spain, Italy and Venezuela.) Beret earned her teaching certificate in Alexander Technique at the American Center for the Alexander Technique – New York (ACAT-NY) Teacher Training Program under Judith Liebowitz in 1981.
She undertook ten additional years of training earning a second certificate in London with Walter and Dilys Carrington at The Constructive Teaching Center (CTC).
Beret has combined her knowledge of music and the Alexander Technique in Master Classes for singers and musicians given all over Europe, most notably at the Salzburg Easter Festival under the auspices of the Kominsky Foundation. She was an ACAT board member from 1982-1985 and a founding member of the North American Society of Teachers of the Alexander Technique (NASTAT), now known as the American Society for the Alexander Technique (AmSAT). She is also a founding member of the Spanish Society (APTAE), and American Societies for the Alexander Technique (AmSAT). She is also a member of the English Society (STAT).